Hanover, Indiana Homes For Sale
About Hanover, Indiana
Hanover is a town in Hanover Township, Jefferson County, Indiana, along the Ohio River. The population was 3,546 at the 2010 census. Hanover is the home of Hanover College, a small Presbyterian liberal arts college. Hanover is also the home of Southwestern High School. The "Point," located on the campus of Hanover College, is the only place along the Ohio River that three bends can be viewed in the river.

During the late eighteenth century, the area today known as the state of Indiana was a part of the Northwest Territory, which originally consisted of the later states of Ohio, Indiana, Michigan, Illinois, Wisconsin, and parts of Minnesota. At that time, there were few European settlements on the northern bank of the Ohio River. Kentucky, on the southern banks of the Ohio, originally included as a part of Virginia, and in 1792 granted statehood, was more densely settled by Europeans. It is likely that prior to the early nineteenth-century European settlement of the Hanover area, its predominant inhabitants were Shawnee.[6]

Captain George Logan (1780-May 12, 1875) grew up in a farming household in the area of Lexington, Kentucky. In the late winter of 1801, young Logan loaded a barge with produce and embarked on a journey westward on the Ohio River, ultimately to sell the produce in New Orleans. At the time, he later noted, there were no European settlements in the area between present-day Carrollton, Kentucky and Louisville. According to Logan, both banks of the river were covered in thick forest. He also reported seeing Native American hunters and fishermen, a large number of buffalo and deer, and heard the cries of coyotes.[7]

Faced with heavy winds and harsh weather towards the end of February, Logan was forced to stop his procession. He stopped his barge roughly a half mile west of the present-day area of Hanover Beach. After waiting for several days, he reportedly grew bored and decided to head ashore. Present-day Hanover is located on a hill overlooking the river valley below. Armed with a rifle, Logan decided to explore and he climbed this hill to the spot today known as Logan's Point. This was the first recorded instance of a European exploring the area of Hanover. Logan was so enamored with the view from atop Logan's Point that he resolved he would some day move there. He carved his initials on a beech tree along with the date, March 1, 1801. It would be another fourteen years before he would return to settle permanently.[7]

Judge Williamson Dunn, from Mercer County, Kentucky, purchased the land area of modern Hanover from the federal government on November 28, 1808.[8] The following year, Dunn resettled his entire family to the area, and they became the first residents of a town called "Dunn's Settlement," which would later come to be known as Hanover. A steady flow of settlers then followed, most of whom were Scotch-Irish Presbyterians. These early settlers had largely emigrated from Ireland to Virginia, then to Kentucky, and finally to the area of Hanover.[9] Among these early settlers in Dunn's Settlement was Christopher Harrison, who would later serve as Indiana's first lieutenant governor and would play a key role in the planning of the state capital in Indianapolis. Harrison built a homestead at Logan's Point, the very spot where George Logan had hoped to build a home years before. When in 1815 Logan returned to attempt to find the spot that he had marked in 1801, the two men met. Logan bought the land and settled there permanently, while Harrison moved to Salem, Indiana. The next year he would be elected lieutenant governor.[10]Williamson Dunn's residence, Hanover's first building.Although most of the fledgling town's population was Presbyterian, initially the nearest church was located in Charlestown, 25 miles to the west. In 1819, Presbyterian minister Thomas C. Searle (January 15, 1787 – October 15, 1821) moved to nearby Madison. While he served religious needs of Presbyterians in a wide area of land in southern Indiana, he quickly realized that a large portion of those he proselytized to was the Scotch-Irish Presbyterians from Dunn's Settlement.[11] According to historian Frank Baker, "by 1820, there were 21,000 Baptists, 20,000 Methodists, but only 2,700 Presbyterians in Kentucky."[12] While this statistic refers to Kentucky and not Indiana, it is nonetheless indicative of a similar situation across the river in Indiana. Therefore, while Dunn's Settlement was small, the concentration of Presbyterians living there was significant when considering the overall small number of Presbyterians in the area. On March 4, 1820, Searle founded the Hanover Presbyterian Church. His wife, a native of Hanover, New Hampshire, was greatly admired by the church's congregants; therefore, the church adopted the name it did. Before long, the town also adopted the name "Hanover," although officially it could only be named "South Hanover" because a post office was already in existence in Shelby County for a town of "Hanover." When the other town of Hanover ceased to support a post office, then South Hanover's name was shortened to Hanover.[11]

Following the founding of the church, plans quickly were initiated for the construction of a church edifice. Williamson Dunn donated land and funding for the cause. However, in October 1821, Searle died, and the ministerial post at the Hanover Presbyterian Church remained unfilled until 1823.[13]


2010 census

As of the census[2] of 2010, there were 3,546 people, 1,075 households, and 686 families residing in the town. The population density was 1,535.1 inhabitants per square mile (592.7/km2). There were 1,216 housing units at an average density of 526.4 per square mile (203.2/km2). The racial makeup of the town was 94.9% White, 2.3% African American, 0.2% Native American, 0.8% Asian, 0.6% fromother races, and 1.3% from two or more races. Hispanic or Latino of any race were 2.4% of the population.

There were 1,075 households of which 33.5% had children under the age of 18 living with them, 44.0% were married couples living together, 14.5% had a female householder with no husband present, 5.3% had a male householder with no wife present, and 36.2% were non-families. 29.4% of all households were made up of individuals and 12.1% had someone living alone who was 65 years of age or older. The average household size was 2.43 and the average family size was 2.96.

The median age in the town was 26.2 years. 18.6% of residents were under the age of 18; 30% were between the ages of 18 and 24; 21.1% were from 25 to 44; 18.3% were from 45 to 64; and 12% were 65 years of age or older. The gender makeup of the town was 47.6% male and 52.4% female.

Let RE/MAX FIRST help you with your home search in Jeffersonville, Indiana - New Albany, Indiana - Sellersburg, Indiana - Floyds Knobs, Indiana - Charlestown, Indiana. Learn more about the Southern Indiana Community and RE/MAX FIRST.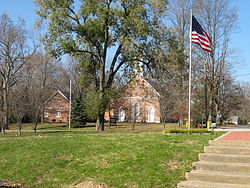 The Hanover Presbyterian Church as viewed from Fireman's Park
Listing information provided courtesy of the Southern Indiana Realtors Association. IDX information is provided exclusively for consumers' personal, non-commercial use, and it may not be used for any purpose other than to identify prospective properties consumers may be interested in purchasing. The data is deemed reliable, but is not guaranteed accurate by the MLS.
Updated: 17th June, 2019 8:55 PM.